Fresh Meadow Power, LLC (FMP)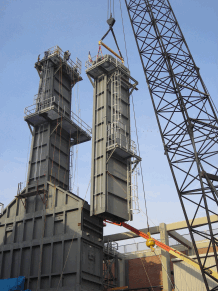 Fresh Meadow Power, LLC (FMP) is a specialty contractor within the Fresh Meadow family of companies. FMP has successfully completed projects for both independent power producers and several major utilities in the Northeast and Mid Atlantic regions. Projects have included Utility Boilers, HRSG's, GT Filter Houses, Simple Cycle Combustion Units, Electrostatic Precipitator Repair, Scrubber Erection, Stack Erection, Air Cooled Condensers, Tube and Shell Condensers, and Power Piping. FMP has a proven history in the areas of heavy rigging, site logistics, steel erection, ASME and AWS code welding, and pressure part welding.

FMP's management team is well accustomed to working within the constraints of outage schedules, multi-tiered contractor arrangements, and new construction projects. FMP always targets the three main ingredients of a successful project: Safety, Quality, and Production.

Projects
Fresh Meadow Power, LLC
204 Maple Avenue
Rockville Centre, NY 11570
Tel: 516-255-9112
Fax: 516-255-9114
John Valvo
- Vice President
Kevin Brosnan
- Construction Field Engineer
John Crosby
- Regional Manager
Bryan Donato
- Construction Supervisor
Rolando (Mike) Enriquez
- Safety Supervisor
Jorge Henao
- Site Manager (NYPA Poletti site)
Dwight Hovington
- Warehouse Support
Jerry Kelleher
- Supervisor
Drew Moore
- Warehouse Support
Michael Pellegrino
- QC/Certified Weld Inspector
Derick Rausch
- Project Manager
Stan Rivera -
Warehouse Manager / Field Coordinator
Chris Ryder
- Supervisor (FMP Piping)
Jonathan U
Diogene
- Warehouse Support
Joseph Strohman
- Supervisor