Boilermaker / Utility
FMP specializes in the erection, repair and maintenance of fossil fuel fired utility power boilers, HRSG steam generators and all related appurtenances within the power generating industry.

FMP primarily employs boilermakers associated with their mechanical scope of work. The International Brotherhood of Boilermakers is a diverse union representing workers throughout the United States and Canada in construction, repair, maintenance, manufacturing, professional emergency medical services, and related industries. A Boilermaker is involved in more than just the construction and repair of boilers. Boilermakers are a vital part of construction project teams that erect and repair pressure vessels, air pollution equipment, blast furnaces, water treatment plants, storage and process tanks, stacks and liners.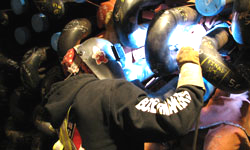 Typical tasks performed by a FMP Boilermaker include:
•Loading and unloading materials
•Rigging materials for movement
•Directing crane operators
•Assembling/disassembling scaffolds and work platforms
•Changing crane booms
•Inspecting and caring for rigging accessories and equipment
•Burning and gouging
•Removing and replacing pressured and non-pressure components
•Interpreting plans and specifications
•Laying out components
•Erecting support steel beams, columns, high/low pressure components
•Using various welding equipment and process
•Aligning and fitting components
Boilermakers