Fresh Meadow Chiller Services, LLC (FMCS)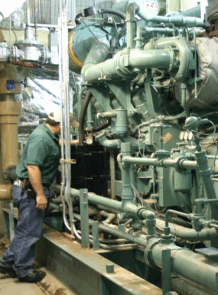 Fresh Meadow Chiller Services, LLC (FMCS) was formed through Fresh Meadow Mechanical Corp., a premier NY area mechanical company specializing in large capital projects. FMCS specializes in large tonnage chiller plant maintenance, service, retrofit, and installations. FMCS also provides service support to FMMC as needed on major chiller plant startups.

FMCS employees expertize includes indivudual with Carrier, York, and Johnson Controls management experience, factory personnel, and senior technicians who recognized a need in the market for OEM Level expertise at non-OEM prices. Our emphasis is on technical ability, quality, and timely service at costs below that charged by large manufacturers. This requires coordination between operations & sales to assure all sold work can be executed to our quality standards. In contrast to our competitors, we avoid over bookings or "run-away sales" to meet monthly business profit projections (commonly seen in large corporations). Our key management and senior technicians individually average 15 years & plus in the commercial/industrial chiller and mechanical fields.

Our service area is NYC and boroughs, Long Island, New Jersey, Westchester, and Staten Island. FMCS currently operates 15 service vehicles and employs Local 638 union technicians with expertise with all major manufacturer's chiller and turbine equipment such as Carrier, York/JCI, Trane, Murray, and Elliott.
Services provided at "no" additional charge include chiller operation & refrigeration theory training, and chiller plant optimization evaluations. We welcome all opportunities to increase the knowledge level of our customer's engineers. This benefits all parties through decreased service calls and reduced equipment outages.

Partial listing of clients:
| | |
| --- | --- |
| | NYU Medical Center |
| | Bellevue Hospital |
| | Richmond University Medical Center |
| | Staten Island University Hospital - North & South Campus |
| | Beth Israel Medical Center - 1st Avenue |
| | Beth Israel Medical Center - Brooklyn |
| | St. Lukes Hospital |
| | Roosevelt Hospital |
| | Hackensack University Medical Center |
| | American Museum of Natural History |
| | 55 Water Street |
| | 1 NY Plaza - Brookfield Properties |
| | 1065 Avenue of the Americas - BREA Management |
| | CBRE - 1166 Avenue of the Americas |
| | CBRE - 708 Third Avenue |
| | Allied Jamica - Muss Development Corp. |
| | Bank of New York - 101 Barclay |
| | Bank of New York - Westchester |
| | 180 Maiden Lane - Cushman & Wakefield |
| | Sony Building - 550 Madison Avenue |
| | Swig Equities - 110 Williams |
| | 445 Park Avenue LLC |
| | 277 Park Avenue LLC |
| | Trump Organization - 40 Wall Street |
| | Boston Properties - GM Building |
| | Boston Properties - Citicorp Building |
| | Boston Properties - 90 Church Street |
| | Long Island University |
| | S.L. Green - 711 Third Avenue |
| | Wolfson Properties - 1 State Street |
| | First New York Partners - 2 Metrotech Center |
Projects
Fresh Meadow Chiller Services, LLC
65-01 Fresh Meadow Lane
Fresh Meadows, New York 11365
Tel: 718-358-2400
Fax: 718-358-2498
Russell Thompson
- Vice President
Graham Dorris
- Director of Operations (FMCS)
Thomas Catoliato
- Direcor of Operations (FMCA)
Thomas Popp
- Account Executive
Kevin Carr
- Service Foreman
Thomas Doxsee
- Service Foreman